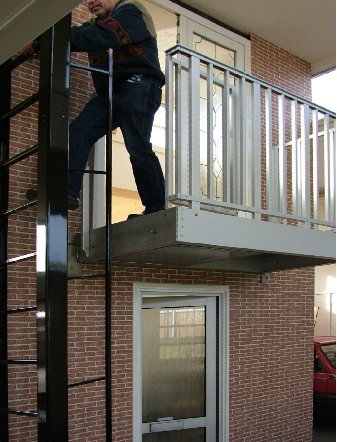 Please note: the standard
finish of all Aluminium
items is Silver Anodised.
Designed as a Fire Escape Ladder the 'Commercial Folding Ladder' or Jomy provides
a secure fire escape ladder that can also be used as a means of access for maintenance personnel.
These ladders are quite small when closed,
all that can be seen is a 100 mm column
comparable to a square drainpipe. They can
be coated in a wide variety of colours to blend
in with the building décor. They are ideal for historic buildings where more obtrusive ladders
would not be appropriate.
Manufactured from Aluminium, stainless steel
and nylon, extreme weather conditions pose
no operational problems.
A quarter turn of an operating handle located
at any exit point unfolds the ladder over its
full height. Springs compensate for the weight
and dampen the movement of the moving parts.
The side guard rail is opened by hand.